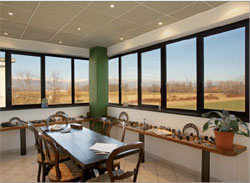 DELTA GOM was founded in the year 1983 as a manufacturer of rubber items and worked for the major automotive Original Equipment Manufacturers (OEM), in the aftermarket , in the household appliances and informatics sectors.
During the Nineties the company devoted more and more resources to a sector as much complex and delicate as the Rubber to Metal Workmanship. And it was a success: the Rubber to Metal has become the core of our production; Silent Blocks used on the Suspension Arms of the European cars are now the real business o f Delta Gom.

After having increased and consolidated the customers , Delta Gom can now boast about 4000 references.

In spite of the necessary industrialization of the production processes, for the medium and big series, Delta Gom continues and maintains the flexibility of a medium company, which is the basic element for the satisfaction and the needs of the customers.

The attention to the quality, both in the raw materials (the same used in the OEM) and in the subsequent manufacturing phases, has almost naturally led Delta Gom to implement its internal organization, and to obtain the UNI EN ISO 9001:2015 certification.

And on the wake of the successes tha t we obtained both in Italy and abroad, Delta Gom could develop, in addition to the SILENT BLOCKS , two new production lines: the STABILIZER BARS, the SUSPENSION ARMS end the ENGINE MOUNTINGS

The engineers of Delta Gom continue and aim to the quality, particularly of the rubber, real heart of the product, firmly convinced that this makes the difference for the functioning , the life and the reliability of the product.

Delta Gom grows in the convinction of being the right partner of its customers.